Ok, so coordinating and decorating weddings is just a small part of what we do at Lewis Events.  However, with weddings we get some very interesting situations that make great stories.  That is why they end up on the posts page.  This particular client wanted their pool to be a featured part of their daughter's wedding scenery.  So after some creative thinking and a few variations, we decided to create a bridge over the pool and hold the ceremony in the very middle over the water.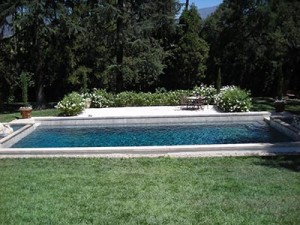 We lined up a well known company for the installation that builds staging for the movie studios (we did not want to take any chances with safety).  Our boys had fun swimming with the crew as they installed the bridge with supports down into the water.  Flowers were to be a big part of the decor, so we contacted Suzi MacMillan at Jacob Maarse Florists in Pasadena.  She did a superb job on the florals.  Christy created the end-of-bridge draping and added fabrics and accent ribbon throughout the estate.  We installed twinkle lights in the trees and theatrical lighting to illuminate key areas, as the event went late into the night.  With all the electrical requirements we brought in hundreds of feet of super-heavy-duty electrical cords and a studio generator.  A fully catered buffet was presented and finished off with wedding cake and an enormous multi tiered, self-serve-candy display.  Luxury, executive rest rooms were trailered in, so the guests never had to enter the home (even the little details are important). Heres how in turned out: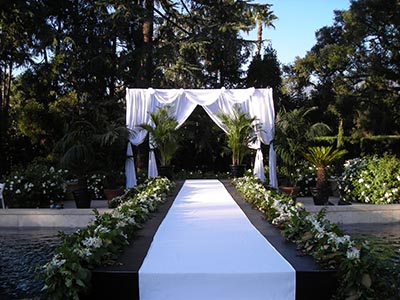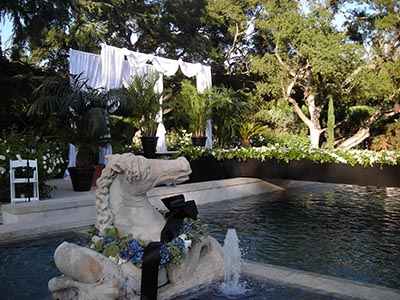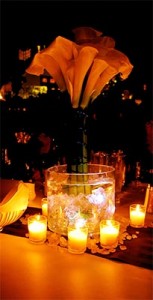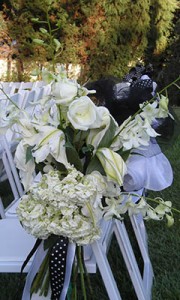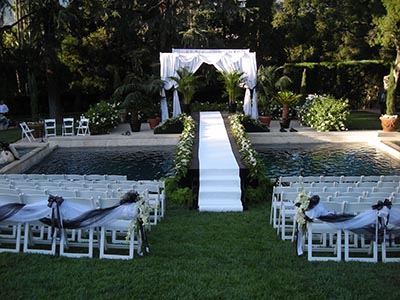 At Lewis Events we love creative challenges.  We also love happy endings. Give us a call with your event challenge . . . and live happily ever after.